If you enjoy what you read here, then I highly encourage you to attend the schools and programs of my teachers. I make no claim to expertise in these matters, and we are all fortunate to still have the original wisdom keepers among us. You'll notice light-skinned cis-men in all these pictures – this is an honest sharing of the path I've walked, but I in no way offer these as the "right" teachers for you. If the connection doesn't feel right to you, poke around my blog, I've written about many others.
Tom Brown, Jr, and the Tracker School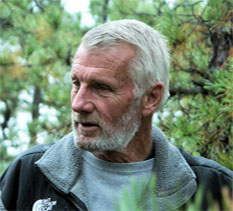 . Tom has a deep and profound knowledge of both tracking, earth philosophy, and original living skills. He is the master of the Sacred Question which permeates these pages. Google his many books on tracking, wilderness survival, and spirit. His bundle is essential for surviving the dark neck of the bottle in which we're living as civilization coughs out its last breaths.
Martín Prechtel, and the Bolad's Kitchen school. Martín is the master of eloquence, story, and village ritual. He weaves together craft, music, history, archaeology, every possible learnable thing you can imagine into a tapestry of lineage and scholarship for a hundred thousand lost tribes of humanity. His bundle of wisdom is essential for creating a true village and remembering our original selves in service to the divine flowering earth.
Google his name for many fine books that offer a never-ending well of deep wisdom about refinding our indigenous selves.
Jon Young, at age 10 the first student of Tom Brown, Jr., now decades later a rich thought leader in bird language and animal tracking, focused on reviving the mentoring process for creating the "invisible school" once universal among village life.
Read his book, What the Robin Knows for a fascinating initiation into the vitality and communication of the forest.
I have many more teachers and influences – I don't mean to leave them out. However, I've made this page for those of you who feel called to seek greater depth and wisdom, and I feel lucky that I can say you can still find these gentleman doing their work.